In Making Ideas Happen, Scott Belsky argues that the design of tools matters. If a tool is well-designed and beautiful, you are more likely to use it. This doesn't necessarily mean it has to be expensive or elitist. A good, beautiful tool can be common yet often-used and loved. Ultimately, the right tool for the job is subjective and a matter of personal choice. Even so, it can be helpful to learn about the tools others use and the qualities for which they are valued. In this spirit, here are some thoughts on some tools I've come to use often and love – my pocket pen and notebook.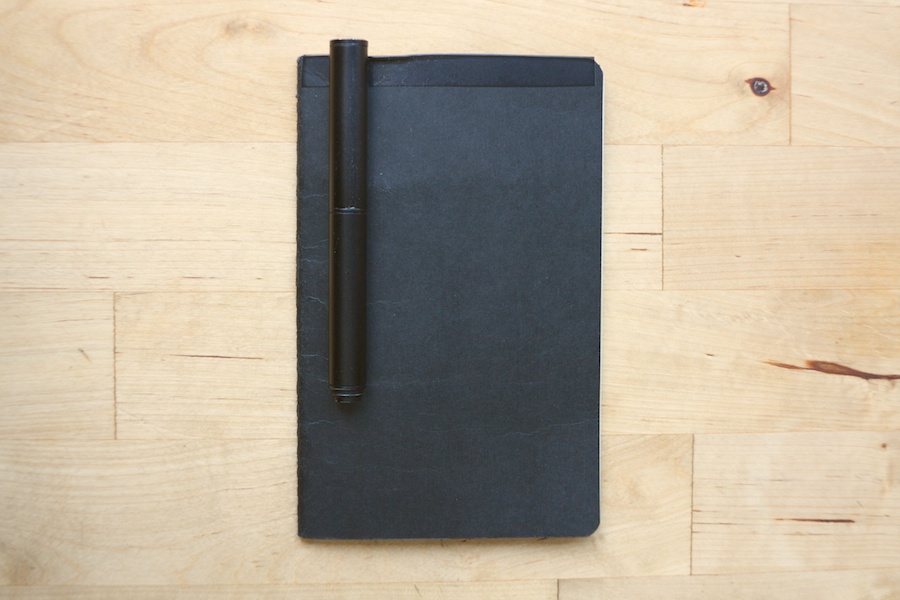 The Need
Nothing beats pen and paper when an idea needs to be quickly jotted down or sketched. Ideas can come at anytime and capturing them in the moment is essential, lest they be forgotten. Thus, having pen and paper handy at all times is paramount. The obvious solution is to keep a small notebook and pen in one's pocket at all times.
The Notebook
Choosing a notebook was fairly easy. It needed to be small and flexible enough to fit comfortably in my pocket. It also needed to be relatively cheap. Expensive notebooks can feel too precious to the point that they discourage use. One shouldn't question whether or not an idea is worthy enough to take up space in a fancy notebook. It simply needs to be used.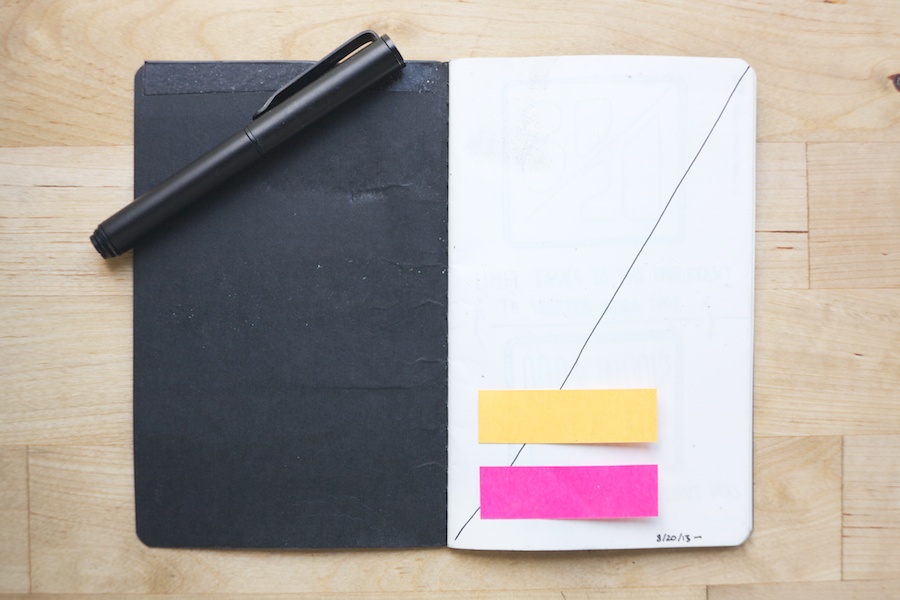 I keep some sticky notes handy on the inside front cover of my notebook. I always draw a line through the first page.
Paper, page count, perforations and pockets were of secondary concern. Plainness, however, was important. A notebook should be a simple frame for thoughts and ideas. It shouldn't scream out ideas, text and logos of its own. Both the cover and the pages needed to be plain.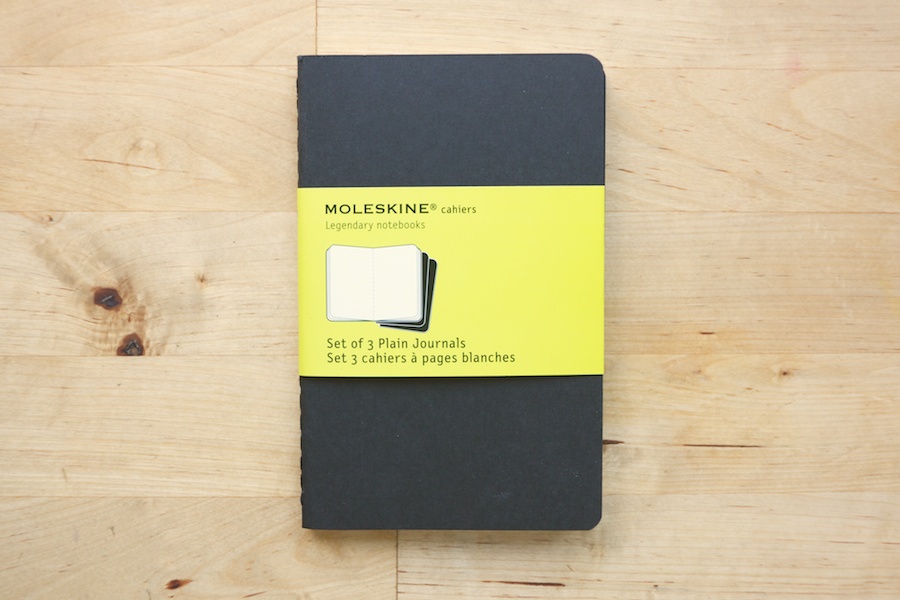 The Moleskine cahier plain journal fit the bill. Relatively inexpensive, three can be purchased for less than ten dollars. The board covers and inside pages feel great. There is a pocket for loose papers in the back, and the last sixteen pages are perforated. The plain cover is interrupted only by a tastefully small, blind deboss of the Moleskine logotype on the back. As pen ink shows through the somewhat thin pages, I write on only one side of each page.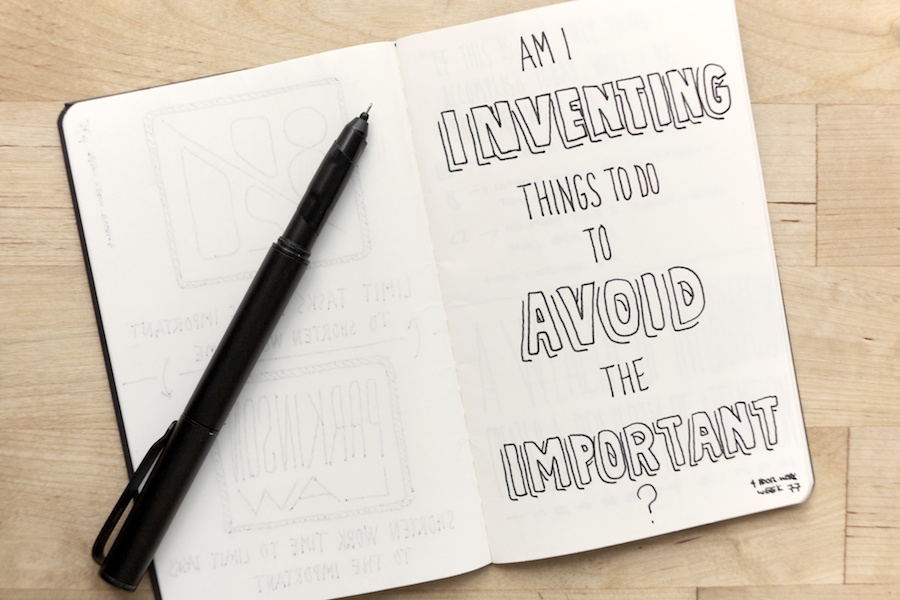 The Pen
My favorite pen is the Pilot Precise V5 RT. Though ugly, it is inexpensive and writes incredibly well. However, it is not pocket-sized. Being retractable, it can also accidentally be extended once inside a pocket and bleed ink onto your clothes. Thus, my criteria for a pocket pen was set. I wanted a pocketable, unbreakable version of the Pilot Precise V5 RT.
Fortunately, the V5 RT uses a replaceable ink cartridge. All I needed to find was a pocketable, unbreakable pen body that could be hacked to accept it. The first serious candidate was the Fisher Bullet Space Pen. Thought it has a great form factor and finish, the V5 RT's ink cartridge simply didn't fit.
The next candidate, however, ended up working. Thanks to the power of Google, I stumbled across a completed Kickstarter page for the Solid Titanium Pen + Stylus – a minimal, titanium pen designed to accept over 30 different ink cartridges, including the V5 RT. Though this was a standard-size pen, I quickly discovered a pocket-sized version – the XTS, which accepts cut-down V5 RT ink cartridges. 1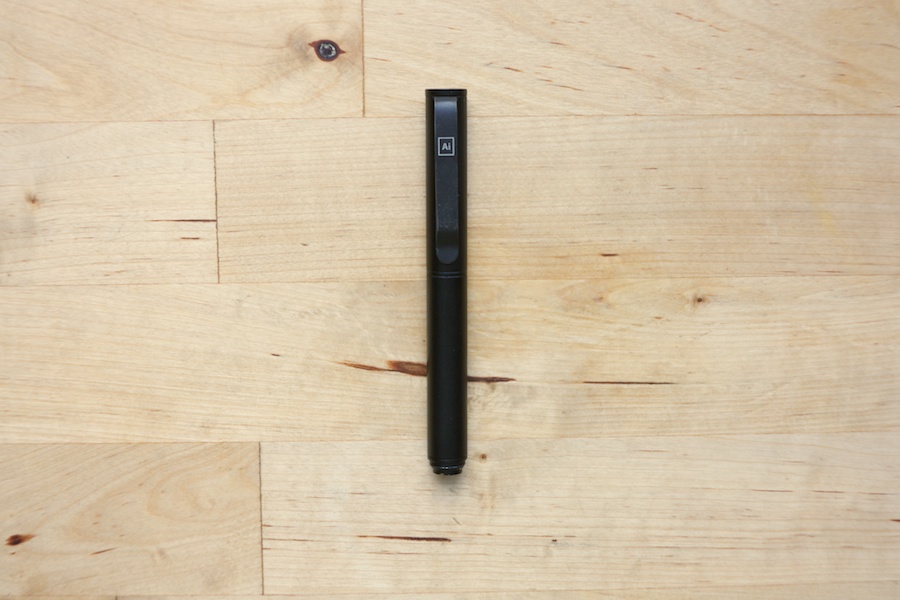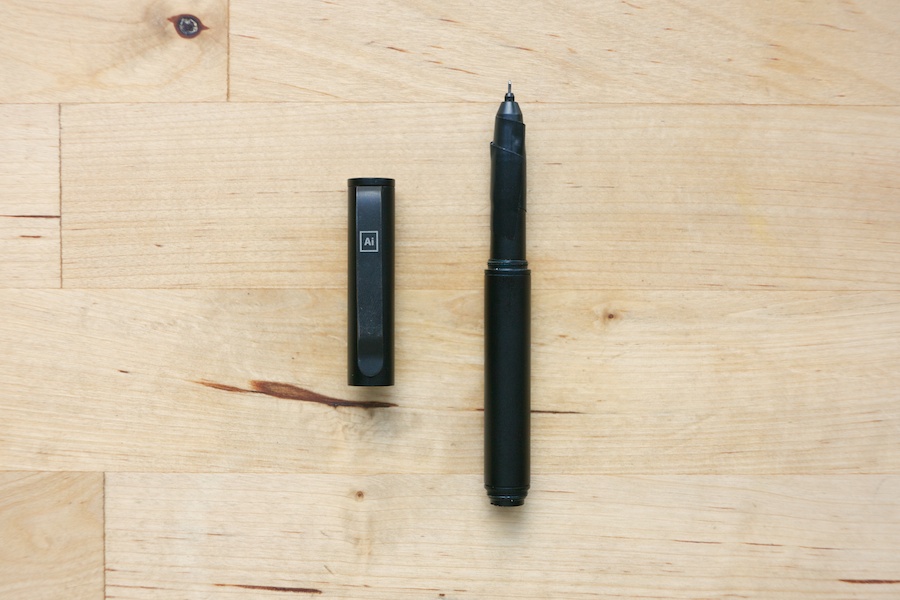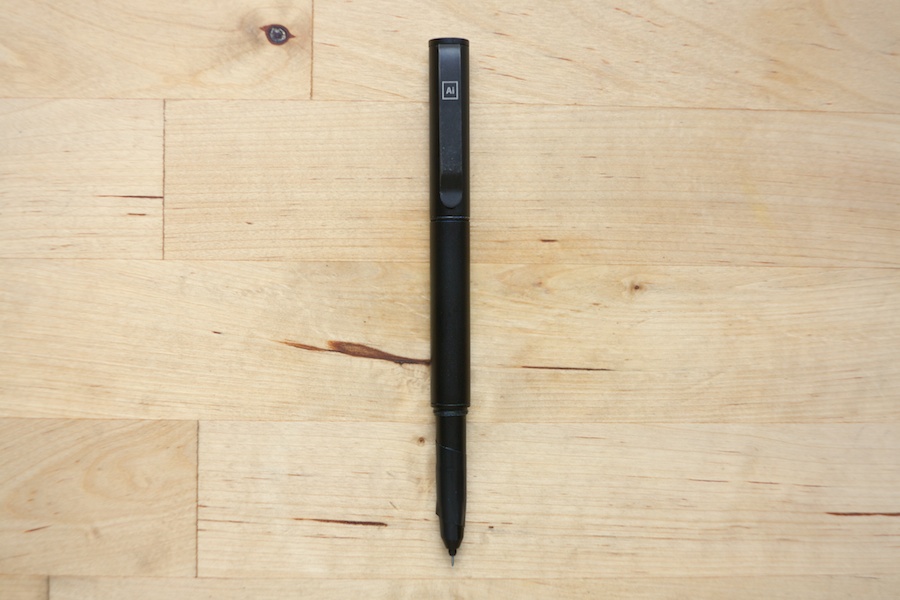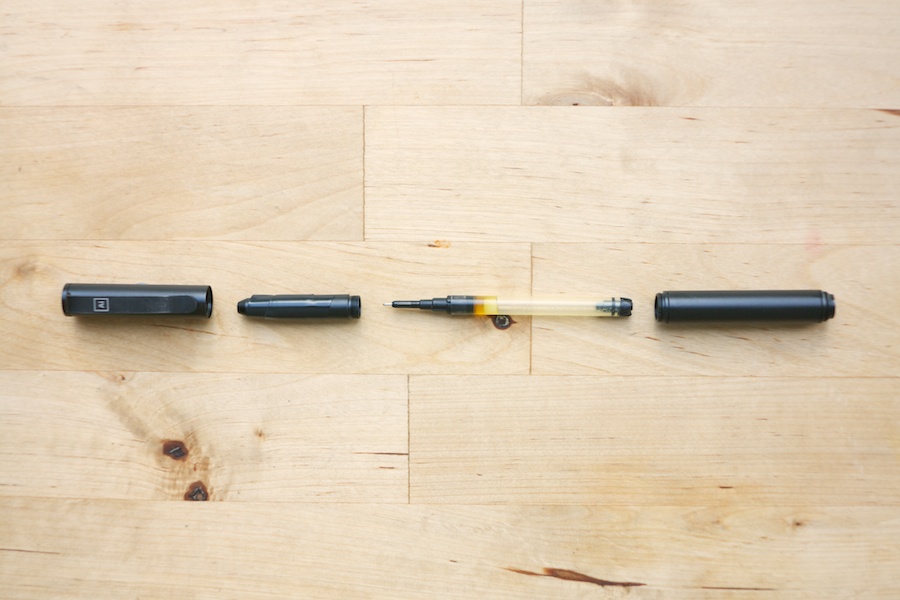 The XTS fit my requirements. It is a very nice pen, but not perfect. On the pro side, it is virtually unbreakable, pocketable, minimal, and accepts the V5 RT cartridge. It feels solid and well-made. On the con side, it is relatively expensive. The aluminum XTS I purchased cost $40. Secondly, it's pieces connect (when opened or closed) by screwing them together. This is a great feature in a pocket pen, making it very unlikely for the pen to come apart in your pocket. Unfortunately, the threads stripped out on the first day I started using it. I'm happy to report that the maker's of the pen, BIGiDESIGN, replaced it quickly at no charge, and I haven't had a problem since. However, revisiting their site leads me to believe I wasn't the only one to encounter this problem. As of this writing, the aluminum XTS is not being sold and the full-size version has been updated to include "newly improved, stronger threads."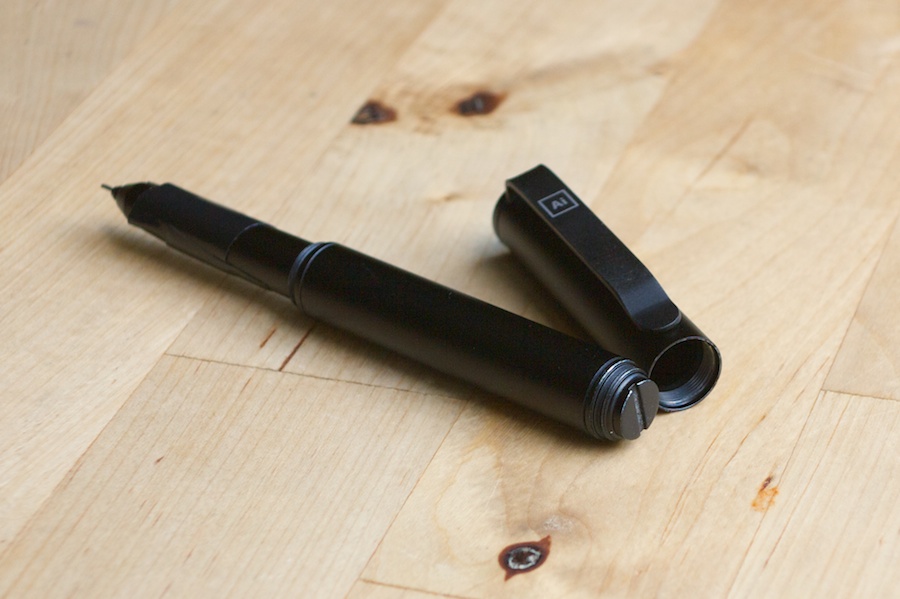 Threading on the ends of the XTS
The Cost of Choice
In Barry Schwartz's TED talk on the paradox of choice, he says that "Some choice is better than none. But it doesn't follow that more choice is better than some choice." It's incredible that I could find most everything I wanted in these tools, including a pocketable pen body made of a metal that accepted my favorite ink cartridge.
However, as Schwartz argues, having this incredible choice has a downside. Arguably, I've wasted too much time and brain power on finding a pen from the available choices. More significantly, the incredible number of choices leads me to believe that a tool that is a little bit more perfect is still out there, waiting to be found. Even though the tools I have are truly great, I can easily become dissatisfied with them or disappointed in the choices I've made when something isn't exactly as I want it to be.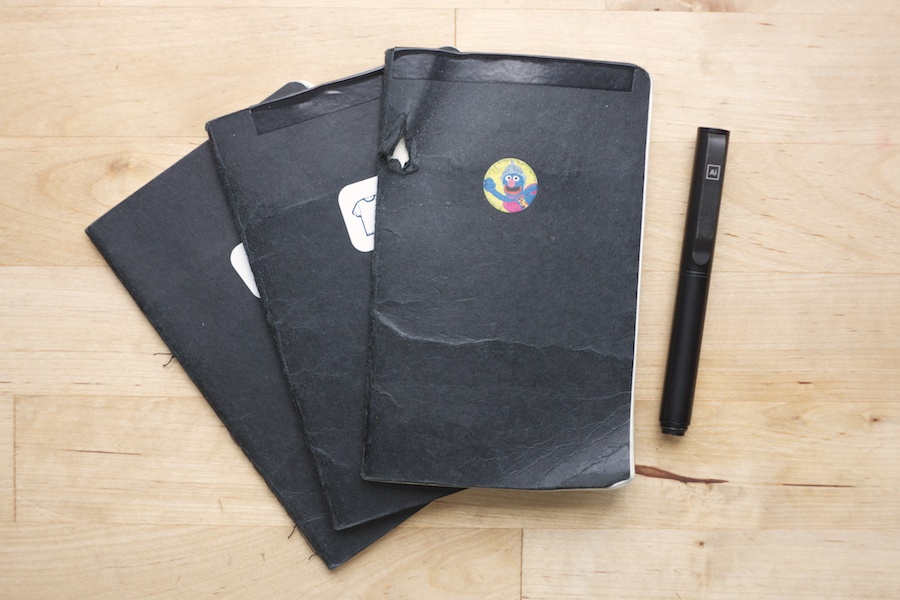 It's a great thing to find tools that are enjoyable to use. At the end of the day, however, the most important thing is what the tools accomplish – capturing ideas and doing creative work. Though I love my current pen and notebook setup, I could get by with almost any piece of paper and a pen or pencil. Just like the best camera is the one that you have on you, the best tool is the one that gets the job done.
---
I purchased the XTS Aluminum pen. As of this writing, the XTS Aluminum was not being sold on BIGiDESIGN's website. ↩